Fremantle – or Freo – is one of our favorite cities in Western Australia. This vibrant port city is about a 20 minute drive south of Perth with a relaxing atmosphere and a great food scene! A few decades ago the hippies first set up their homes here which assumedly is the reason for the creative and open minded ambiance. Don't hesitate, please go there for a few days and enjoy a lovely brunch, stroll around the markets, taste the delicious beers in one of the breweries or go on a trip to Rottnest Island to meet with a quokka.

Basically Fremantle is split in two: North and South Fremantle. To get around you can either take the free CAT bus service which brings you to the major sights on a continious loop every 10-15 minutes. You could also easily get around by foot or rent a bike! Our suggestions for your Fremantle visit:
Street art
We love street art and came across this 25-meter long numbat, one of Australia's endangered species,  mural in Henderson Street. The street art is painted by the Belgian graffiti artist ROA, he was asked by the City of Fremantle to leave his marks. ROA mainly paints animals, alive or dead, in different stages of decomposition. You can recognize his paintings by the use of of black and white paint. We came across another graffiti work of ROA in Berlin during our city trip.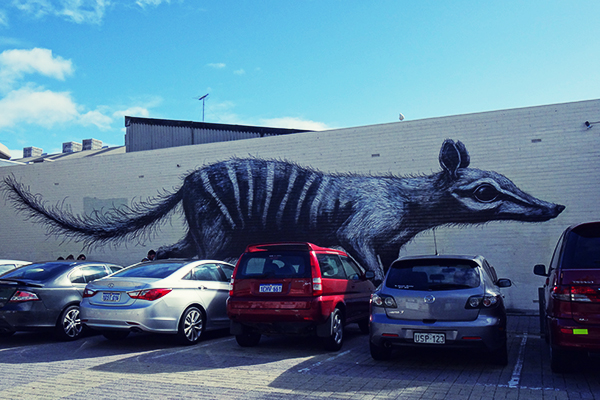 Numbat mural by ROA
Food & drinks
Little Lefroy's
This perfect breakfast and brunch spot is located in South Fremantle. The restaurant opens at 06:30 for your early caffeine needs and during week-ends you can opt-in for delicious diners. One glance at the menu makes us smile from ear to ear: many gorgeous dishes to go for! Choose a healthy breakfast to start your day with or a huge hangover breakfast to survive your day! Little Lefroy's uses local organic products and ingredients as much as possible, the interior is made of recycled pallet wood and they server trendy dietary options as gluten free, buckwheat and sourdough bread.
Address: 310 South Terrace, South Fremantle WA 6162, Australia
The Raw Kitchen
The Raw Kitchen is THE hotspot for the health freaks amongst us. In this industrial old warehouse, you can order your sugar and dairy free smoothies and juices, healthy coffees and dishes. The Raw Kitchen also organizes workshops focusing on raw food, yoga sessions and next door you'll find a beautiful shop with handmade gifts, books and cosmetics. A very healthy place and definitely worth a quick stop during your Fremantle walk!
Address: 181A High St, Fremantle WA 6160, Australia
May Street Larder
May Street Larder serves you the most pretty looking dishes! By using organic and locally produced ingredients, the menu changes changes based on what the season offers! This East Fremantle restaurant offers you dishes that are a mixture of raw and paleo. Don't freak out dear men! You could also go for crispy pork bellies, so there is something for everyone! And… don't forget to try the ChocoWhip 🙂
Next to breakfast, lunch and diner, May Street Larder offers magnificent pickled products that are the perfect present to make your family and friends back home very happy!
Address: 23/155 Canning Hwy, East Fremantle WA 6158, Australia
Monk Brewery
Just as we do – Ozzies like their beers! Maybe that's the reason why Fremantle is so great for us! At the centrally located Monk Brewery, beer is brewed with love and passion. And that is exactly what makes the beers taste delicious. With your beer you can enjoy  fish & chips, steak, pizza, burgers and great snacks. Concerning the beers, the offering varies from a blonde ale to a malt driven Scotch ale: we recommend trying them all!
Address: 33 South Terrace, Fremantle WA 6160, Australia
Little Creatures
Without any doubt our Fremantle favorite! At Little Creatures you find yourself in a large hall with beer kegs, wooden tables and an open kitchen. Little Creatures Fremantle is a brewery founded in 2000 by three friends and beer lovers. The Little Creatures family started with a Pale Ale and expanded later on with Bright Ale, Pilsner, Rogers beer and IPA. Please do try the award-winning Pale Ale and all other beers of course! If you're hungry from strolling through Fremantle, you can also go here for food because the beer is served with delicious snacks and meals. This is a must-visit and a lovely place to spend your time.
Address: 40 Mews Rd, Fremantle WA 6160, Australia
Lots of beers at The Monk Brewery
Kakulas Sister
Two sisters started this shop together in Fremantle. This excellent small food store sells fine wines, good cheeses, the best coffee and spices. Here you will find rice, nuts and grains stored in large burlap sacks, locally produced meat and all kinds of sweet delicacies. Kakulas Sister employs enthusiastic foodies who spread the food culture of Western Australia and help with care and love in the store. Besides mostly local products, you will even find there Dutch biscuits and other international ingredients. Perfect to do your grocery shopping and to make yourself the perfect meal at your hostel or campsite!
Address: 29-31 Market St, Fremantle WA 6160, Australia. You will also find Kakulas Sister in Nollamara in Northern Perth (90 Hillsborough Dr).
Many 6160
In the middle of Fremanle you can find this 'pop up' store that exists since 2013. In this huge building clothing, furniture, art, hand made accessories, and much more is sold by different artists and designers. Great place when it's raining 🙂
Address: 2 Newman Ct, Fremantle WA 6160, Australia
Fremantle Markets
During our stay in Fremantle it rained and stormed, but we did not bother! Because despite bad weather, you can enjoy yourselves perfectly in Fremantle. The Fremantle Market is great fun to spend a morning or afternoon. It is a patchwork of stands with souvenirs, clothing and bags and food and drink. Try as many as you like! We ate delicious satay with rice! Want to know what stands there are?Please take a look at this website: http://fremantlemarkets.com.au/interactive_map
Address: Corner South Terrace & Henderson Street, Fremantle WA 6160, Australia
Cool things to do
Fremantle Prison
This impressive prison was built between 1851 and 1859 by convicts and has a size of approximately 6 hectares. Since 1991 Fremantle prison is no longer in use as a prison and open for visitors who want to have a look around. There are several tours that are definitely worth a try! You get an insight into the jail life throughout the years, a friendly guide tells you about the history of Western Australia and the functions of the various buildings. It is certainly imposing and this sight should not be missed on your list! In 2010 the Fremantle prison was added to the UNESCO World Heritage List.
Address: 1 The Terrace, Fremantle WA 6160, Australia
Boat to Rottnest Island
There are several waterways bringing you to Rottnest Island. Many go from Perth, but you can also take the boat from Fremantle to Rottnest Island. Rottnest is particularly known for it's quokka inhabitants!!! 🙂 Rent a bike and go looking for that happy and always smiling little creature. The Rottnest Express leaves from B-Shed in central Fremantle and from Northport in the northern part. Because of the heavy storms, we decided not to go to Rottnest, but – when back in WA – it's the first visit we'll make!