Hamburg is both posh and down to earth at the same time, which makes the city ingenuous. In 2015 the city even ranked 16th in the world for livability. And we understand why! Hamburg's neighbourhoods are diverse, the city is full of energy and exudes relaxation. Each neighbourhood has its own character, highlights and atmosphere. This article helps you to understand these characteristics and explains where to go for architecture, shopping, food and drinks in Hamburg's City Centre, St. Pauli, St. Georg, Schanzeviertel, Karolienviertel, Hafencity, Altona and Ottensen. 
Neighbourhoods of Hamburg
Also called the Free and Hanseatic City of Hamburg, Hamburg is the second city of Germany and the second largest European port. Most travellers will either arrive by train or plane. Hamburg Hauptbahnhof will be their first introduction to the city. The huge train station is a bustling and busy place from where hundreds of visitors find their way in and out of the city. When facing west, Altstadt and Neustadt are right in front of you. St. Georg is the neighbourhood situated at the back of Hamburg railway station. Hamburg has 6 main neighbourhoods:
Altstadt and Neustadt – Hamburg's City Centre
The oldest area of Hamburg! Altstadt is the old city centre and so is Neustadt, just with another name, being 'new town'. Altstadt and Neustadt are the historic parts of the city that make up Hamburg city centre. The Alster connects these two neighbourhoods and is the gateway to lake Binnenalster (the small lake) and Aussenalster (the large lake) in the north of the city. Looking at the map of Hamburg, Altstadt and Neustadt are the areas within the major circle with river Elbe in the south, the railway station in the East and North East, the park Planten und Blomen in the North West and the district of St. Pauli in the West.
Many finance and media companies have their offices in this part of Hamburg city. This brings Altstadt and Neustadt posh restaurants and expensive bars where business people can close their deals and shopaholics have their caffeine levels boosted. The main reasons to visit Altstadt and Neustadt are shopping and architecture! This is where international brands have their brand stores ready for you to spend your complete Hamburger budget 🙂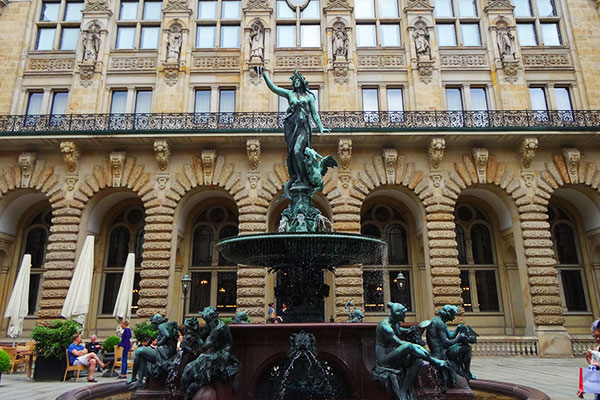 What to visit in Hamburg's City Centre?
Architecture

Rathaus – Hamburg's pride and neo renaissance Town Hall. If you visit Hamburg in winter time, this is where you will find the Christmas market. The Rathaus is the most visited highlight in Altstadt and Neustadt. After a huge fire back in 1842, Hamburg's Rathaus and two major churches were rebuilt. The new architectural style has more classic and Italian shapes.
Gängeviertel – a hippy area with houses covered in street art

Food & drinks

Cafe Paris – standard on everyone's list but worth a visit! Cafe Paris has a typical French atmosphere and menu. Don't forget to look up and adore the ceiling!
Brooklyn Burger Bar  – one of the most popular and best places in Hamburg City Centre to eat, obviously, a hamburger 🙂

Shopping

Lilienstrasse, Mönckebergstrasse and Spitalerstrasse if you would like to visit the world's famous brand stores
Neuer Wall and Grosse Bleichen for designer brand stores and the luxurious shopping mall Alsterhaus
Jungfrenstieg to spot the rich and famous shopping their Hollywood outfits or for car fans with a special love for Porsche and Lamborghini.
St. Georg
The district of St. Georg starts at the back, or East entrance, of Hamburg train station. St. Georg has gone through enormous development in the past years and is still subject to lots of renovation projects. Especially the northern part of St. Georg really benefits from the renewal work that has been done. Old warehouses are refurbished and there is way less criminality. St. Georg is also known as Hamburg's gay neighbourhood with many cafes and bars. Hamburg's mayor is gay and lives in St. Georg which makes him the perfect paragon for the neighbourhood.
What to visit in St. Georg?
Food & drinks

Restaurant Turnhalle – back in 1898 the building was a girl school's gym.
a.mora – perfectly located on Elbe river, a.mora serves breakfast, cakes and burgers!
Mutterland – food store and cafe with only locally produced German products.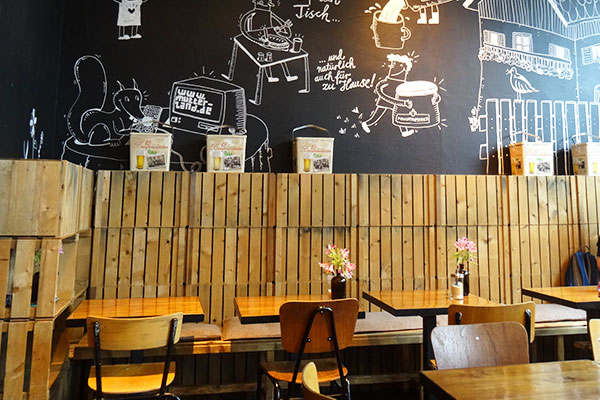 Shopping

St. Georg's main street Lange Reihe – this street houses great Arabic restaurants so if you are in the mood for falafel, lamb meat or other Middle Eastern dishes, this is your area!
St. Pauli
Party animals, this is where you want to go! Reeperbahn is THE amusement vain of St. Pauli and Hamburg, offering sex clubs, bars, theatres and everything in between to its visitors. The Reeperbahn, also called Kiez, is Hamburg's red light district. As one of the largest harbour cities in Europe, Hamburg has a tumultuous history regarding sex clubs. It all started in the 18th century when Hamburg lived its golden year of richness and trade.
On a regular Friday or Saturday at Reeperbahn, you will experience Hamburg nightlife at its best, or worse if you will. Keep your eyes open! Exploring travellers, stag or hen do's, homeless people, students, hipsters, rockers, just you and me. Reeperbahn has something for everyone! St. Pauli is real, raw and rough!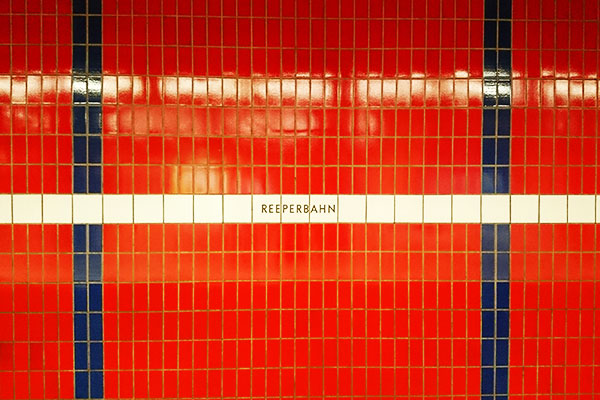 What to visit in St. Pauli?
Architecture

Landungsbrücken – the harbour promenade
St. Michaeliskirche – enormous church with a 132 meter tower offering you a beautiful view of the city. For the sporty types there is stairs, the lazy ones can take the elevator.

Food & drinks

Reeperbahn of course. If you don't want to end up in one of the dodgy bars or raunchy cafe's, there are quite a few nice places just on the side roads north of Reeperbahn, for example brewery cafe Schankwirtschaft on Detlev-Bremer-Strasse 43.
Beatles Platz – Hamburg claims to be the place where the Beatles grew up.
Strandpauli for a beachlife experience

Shopping

The Art of Hamburg – the perfect shop for Hamburg lovers and original souvenir seekers. Adress is Ditmar Koel Strasse 19
Schanzenviertel and Karolinenviertel
Karolinenviertel and Schanzenviertel are the perfect areas for design, fashion lovers and those who love a free spirited and alternative atmosphere. Karolinenviertel is also called Karoviertel en is named after the former coal plant Karoline. The laid-back neighbourhood Schanzeviertel is also called Schanze. The neighbourhoods have been impoverished for a long period of time. In the 90s renovation work took place to ensure that buildings that survived the Second World War, kept their own character.  These renewal projects clearly paid off. The neighbourhood is home to immigrants, locals, fashionista's and designers. Schanzenviertel is located is little more northward and seems to have kept its raw edges.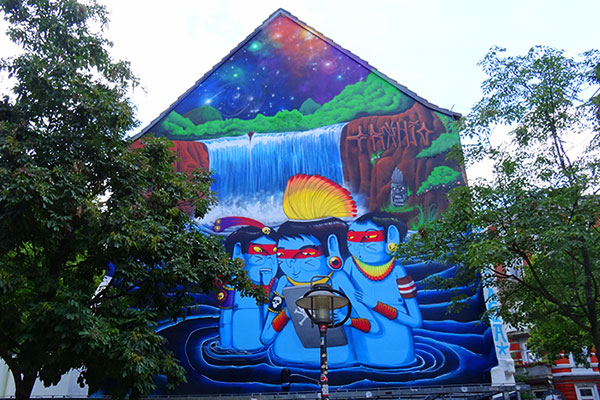 What to visit in Karolinenviertel and Schanzenviertel?
Architecture

Keep your eyes open for streetart! Karoviertel and Schanze have some colorful hidden paintings for you to discover!

Food & drinks

Cafe Klatsch – favorite breakfast cafe for locals on Glashüttenstrasse 17
Altes Mädchen – Awesome Beer & Burgers on Lagerstrasse 28

Shopping

Marktstrasse with many vintage shops and the Flea Market
Schanzenstrasse
Schulterblatt
Altona and Ottensen
Altona is the neighbourhood that is located West of St. Pauli. Altona is situated on the Elbe river and together with the area of Ottensen, Altona makes up a relatively young neighbourhood. Until 1937 Altond and Ottensen were small towns, just outside of Hamburg. Throughout the years Altona and Ottensen successfully retained their own character. The areas used to be centre of industry and labour. Altona and Ottensen are home to a large variety of contrasting shops like posh designer boutiques, second hand vintage stores and different types of local business. Altona's inhabitants are a multicultural mixture of young families and hipsters. We understand that this Hamburg neighbourhood may not be the first one to visit. However, the area is really worth a visit and just a short bike ride away from Hamburg's City Centre.
What to visit in Altona and Ottensen?
Architecture

Major highlight that you should visit! The Fish Market (Fischmarkt) is held on Sunday mornings and is a real spectacle! The Fish Market Hall turns into one large Beer Stube. The huge building is a typical dockland architectural warehouse. There is a band performing, the curious visitors have their first beers, local party people have their last and others just have a coffee to wake up. The variety of people and the great ambience that comes with it, make the Fish market a Hamburg must visit. Visit the Fish Market not just for it's architecture, also for food and drinks if you are up for it in the early morning!

Food & drinks

Altonas Balkon – biergarten with the perfect Hamburg city view – Palmaille 41
Klippkroog for fresh breakfast a good coffee – Große Bergstrasse 255

Shopping

Ottenser Haupstrasse
Eulenstrasse
Friendensallee
Bahrenfelder Strasse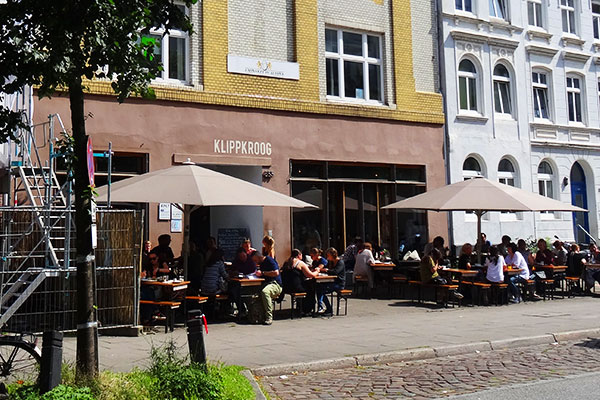 Hafencity and Speicherstadt
The new city neighbourhood of Hamburg is an urban development project. Hafencity is known for the hyper-modern, expensive architecture and old warehouses. The road along the Elbe river invites you to gallivant, relax on the terraces and stroll around. The development plans for Hafencity evolve until 2030: trendy restaurants, convenience stores, apartment blocks, gyms and offices all coalesce in Hafencity.
Speicherstadt, the historic centre of the harbour neighbourhood, was declared a World Heritage Site by UNESCO in July 2015. Speicherstadt is the 'City of Warehouses' and is the world's largest warehouse area where buildings have timber pile foundations of oak. The warehouses were built between 1883 and 1927 and are still used for their initial purpose: Speicherstadt companies handled 1/3 of the world's carpet production, cacao, coffee, tea, spices and electronics.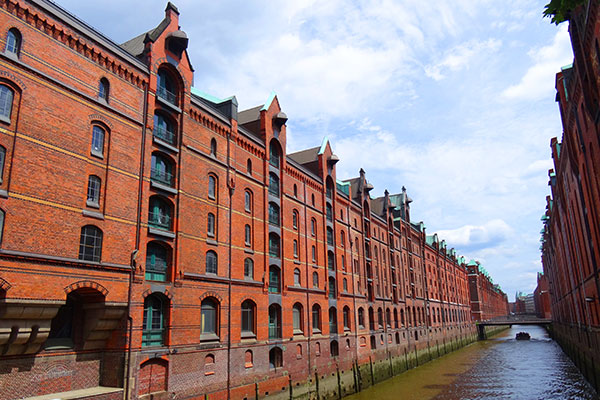 What to visit in Hafencity?
Architecture

One of the most appealing buildings of Hamburg is Elbphilharmonie 
Speicherstadt warehouses
Deichstrasse dates back to the 14th century and is the street where the you can admire the oldest houses of the original harbour neighbourhood.

Food & drinks

Nord Coast Coffee Roastery for great coffee, located in Deichstrasse 9
Brasserie Carls
Miss Sofie for delicous icecreams

Shopping

Überseeboulevard
If you are into marine fashion and French Crêpes, visit the Brittan shop Ti Breihz in Deichstraße 39.
 
Feel free to share your thoughts on this article, the Quokka website, Hamburg or anything else by using our comment box! Feel like going on a city trip? Check our city trip articles!