Paradise does exist! That thought came to mind when we first saw Kuang Si waterfall. A visit to the waterfall is a must-do when you visit Luang Prabang. Just 35 kilometers southwest of the relaxing city of Luang Prabang, you will find this almost surrealistic water paradise called Kuang Si waterfalls!

Kuang Si waterfalls
Kuang Si – or Kouang Si, Kuang Xi or Tat Kuang Si – waterfall is an impressive multi-level water monster that tumbles his water 60 meters down before blending into the turquoise blue colored water. The water collects in various pools as it flows downstream. The cascades are typical of travertine waterfalls.
Travertine is a type of limestone that is deposited by mineral and hot springs and is formed by the process of quick precipitation of calcium carbonate at the mouth of the springs or at limestone caves. You will find travertine terraces at Yellowstone Park, at Hierapolis in Turkey and Bavarian Burghausen Castle in Germany.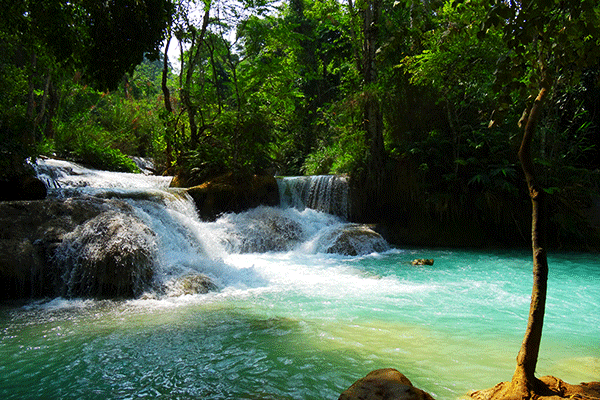 There is a  large upper pool where visitors are not allowed to swim in. In the lower level Kuang Si waterfall pools swimming is permitted. The crystal clear terraced pools just look amazing and very inviting for a refreshing dive. The water is cold though, don't expect the water to have tropical temperatures. There is a steep path on the opposite side of the falls where you can go for a hike. Be careful, it can become very slippery because the path is not paved! If it's your lucky day you will see a lot of butterflies!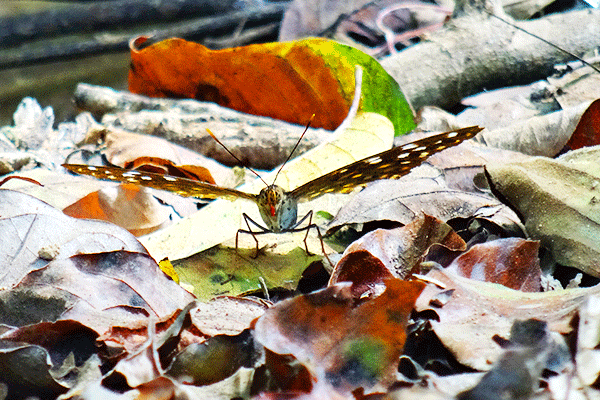 We hear you thinking 'yeah, I have seen many waterfalls. This is probably just another one'. But no, it's not just another waterfall! The Kuang Si waterfalls are definitely worth a visit, you will be amazed!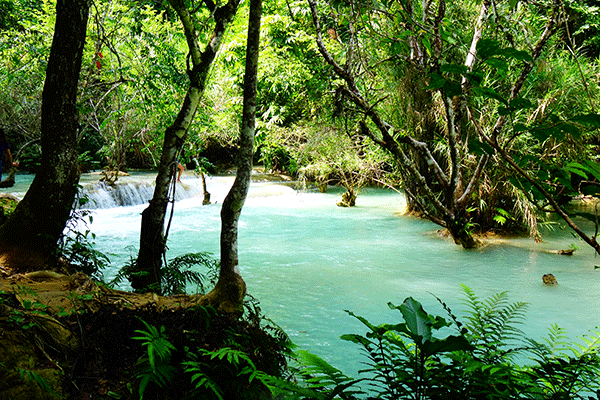 How to get to Kuang Si waterfalls
The most scenic way is by boat on the Mekong river. Ask at your Luang Prabang guesthouse if they can help arrange a boat and enjoy! The last bit of the trip is by tuk-tuk so keep that in mind while negotiating the price. The Mekong river boat will drop you off at Luang Prabang at the end of the afternoon which is a great moment of the day to see locals and wildlife on the river. After spending two days on a long boat we passed this option.
Take a tuk-tuk and expect to pay about 200.000 Kip for 5 people, so about 40.000 Kip each. If you don't feel like sharing the ride, just arrange yourselves a private tuk-tuk. The ride to Kuang Si waterfalls will take about 45 minutes.
Another option is a shared minivan. Minivans will pick you up at and drop you off at your guesthouses. This is actually one of the cheapest options and the one that we chose. Costs are about 60.000 Kip each.
Go cycling! If you are not into cycling or feel fit, think twice! Kuang Si Waterfalls are 23 kilometers one way from Luang Prabang. A few suggestions: leave early morning if the temperature is high. The good thing about cycling is that you will have the chance to stop at the local villages. The challenging aspect is that you will have to climb a few hills. It's not difficult to find the right route – check Hobo maps before your leave! Feel like cycling less than 23 kilometers? Read our cycling in Luang Prabang tips!
Rent a motorbike. This is not an option we prefer because we are not fans of motor biking. We would not consider renting a motorbike.
Practical info
Most of the shared transportation options pick you up in the morning and bring you back to your guesthouse in Luang Prabang in the afternoon. There are a few picnic tables where you can have your own packed lunch or you could  buy some fruit and baguettes at the entrance Kuang Si waterfalls.
Before you enter the waterfalls area you will walk by a bear shelter where rescued bears live a happy life. Well, we are certainly not fans of animals living in captivity but the bears here live a much happier life than they had before. Take some time to read the wonderful story of the Australian organization Free the Bears. The Lao rescue center houses bears that were tortured and captured for their bile. This abuse of the bears is so incredibly sad and we can't understand that people would actually do this 🙁 So, it is great to see the animals playing with each other and having a good time. Feel like helping? Buy accessories or clothing at their online shop or transfer a gentle donation via Pay Pal.
The entrance fee is 20.000 Kip. The bear sanctuary is included in this price, however Free the Bears will not get any money out of this fee.
Be respectful. There are changing huts that you should use when you would like to change your outfit. Some of the Kuang Si pools are sacred, so respect the signs that say where not to swim. Women might want to take an extra t-shirt if you feel uncomfortable regarding local customs.
If you like spotting weird insects that are not to scary (we do!), keep your eyes open!