A world-famous and 5.193-kilometer-long train journey passing 5 time zones. It is the beginning of our travel adventure that would end in Beijing with a stop in Irkutsk and Ulaanbaatar, the capital of Mongolia. An awesome adventure I dreamed of since I was in high school. In this Trans-Siberian Railway Travel Guide I share what you can expect when you travel on the Trans-Siberian train.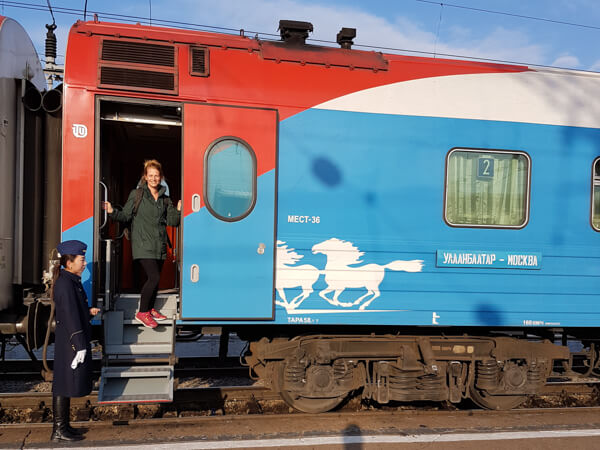 The last few months were about preparing for this once-in-a-lifetime travel experience called the Trans-Siberian Railway. Lots of paperwork for visa's, hotel bookings and reading travel blogs. Weeks flew by and before we knew we sat in the airplane from Amsterdam to the capital of Russia. And after discovering Moscow and a 2-day trip to Suzdal, the moment was there: time to get aboard of the Trans-Siberian Express train! This Trans-Siberian Railway Travel Guide shares practical information on the following subjects:
Level of comfort on the Trans-Siberian Railway
The level of comfort obviously depends on the type of compartment/seat/bed you book. We travelled from Moscow to Irkutsk on train 70 and we travelled the posh way: we booked ourselves a private compartment which is normally booked by 4 people. It's not a money saver but it was the perfect way to start our journey together, feel comfortable, have enough privacy and space.
Our first class compartments had bunk beds. We slept in the lower beds and used the upper beds for storage. There was enough space for our belongings, a small table, coat racks and hooks for your stuff. Underneath the lower beds, there is storage and our backpacks easily fitted in there.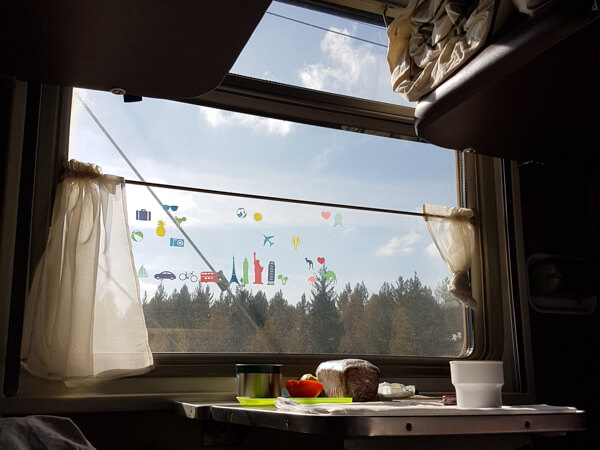 Is the Trans-Siberian train clean?
I found travelling on the Trans-Siberian train surprisingly clean. Apart from the toilets, which is something you know beforehand. The provodnica's had a daily routine of vacuum cleaning, mopping and cleaning the toilets. Although it will probably not always be the toilet you hope for, most of the times there was toilet paper and soap. For some fresh air we just opened the windows. There are no showers so after a few days of splashing cold water in my face, I was very happy with a shower in our guesthouse in Irkutsk.
Provodnica's
Each carriage has a provodnica, ours had two. I think that's because our compartment was next to Mr Trans-Siberian the head guard himself. The provodnica ladies of the Russian trains consider the carriage their home and they take good care of the carriage and its passengers. At every stop they welcome the passengers on board and they provide you with sheets. Provodnica's in the Trans-Siberian can be grumpy we heard but the ladies in our carriage were very friendly. But strict of course! They keep an eye on you, will check if you are there when the train leaves and if you ask kindly, can lock your compartment door if you want.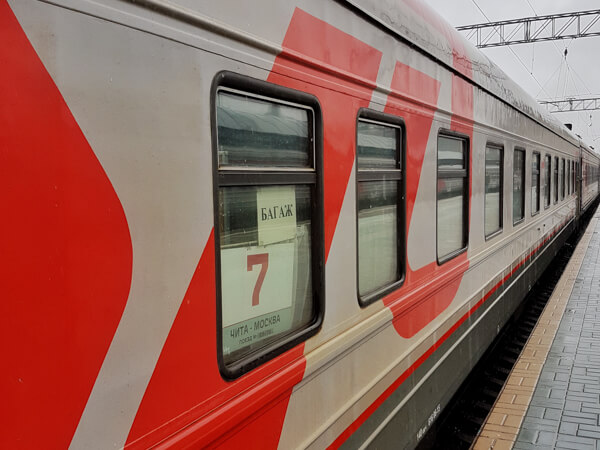 Food on the Trans-Siberian train
Let's start with the most important item and your best friend on the Trans-Siberian journey: the samovar. This large water kettle is located in each carriage and it's the best drinking water you get on board. I brought my favourite tea from home and used the water for instant-noodle lunch.
There are 3 options for food: bring your own, buy at the train stations or order at the restaurant carriage. We tried all options. If you bring instant noodles, tea, fruit, chocolate and water yourself – like we did – and buy some food at the restaurants and stations, you won't get hungry! There are even quite a few options for vegetarians, so no worries there!
At the restaurant carriage, you can order breakfast, lunch and dinner from 09:00 to 24:00. We tried the soup, boiled potatoes, the cheese omelette and vegetables. It's not a Michelin star restaurant but it's what you expect to get on a Russian train. You will pay about € 10 for dinner, including 0,5 litres of beer.
At the larger train stations and where the train has a longer stop, you will find small shops at the platforms and local Russians selling food. Great for ice creams, bread (don't expect fresh bread) with onions, yoghurt, sausages and lots of packaged stuff like crisps etc. On the station of Barabinsk women sold pickled fish, a smell that will not leave the train until the next day. Some culinary highlights we had:
Breakfast:

Yoghurt, bread with union
Omelette with cheese
Brown bread with cheddar and tomato

Lunch:

Noodles
Apple pie
Vegetable stock with bread and avocado

Diner:

Coleslaw with cucumber and boiled potatoes
Chicken breast for dad, mushrooms, potatoes
Buckwheat, tomatoes and boiled potatoes

Snacks:

Pretzels
Radish
Chocolate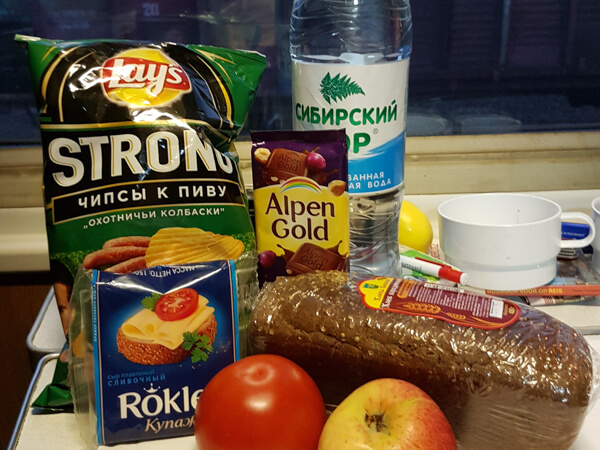 Sleeping on the Trans-Siberian Railway
I thought I was not able to sleep well on the Trans-Siberian train. I travelled with night rains before in Malaysia and Thailand. I thought Russian trains would make way more noise! But surprisingly enough I slept really well. Not just well, I mean really good! I have to say I am 1.68 metres. People longer than 1.85 will feel less comfortable in the tiny compartment. We received a mattress, sheets, a blanket, a pillow and a pillow case.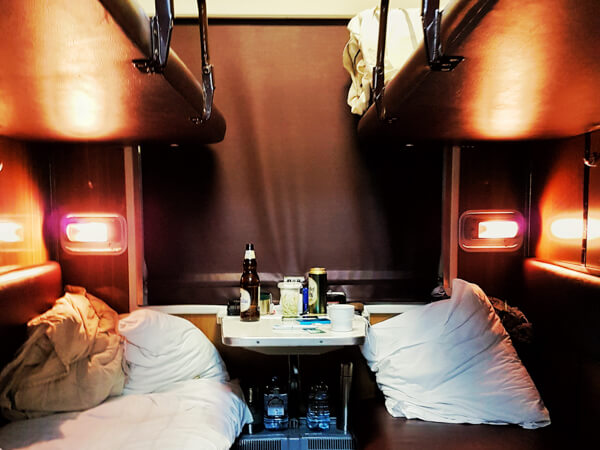 Electricity
You can charge your devices in the train. There are sockets in the corridors, not in the compartments. If you bring an extension cord you will be able to get electricity to the door of your compartment and charge multiple devices at the same time. Our providnica did not look to keen on the extension cord in the beginning but was fine with us using it on day 2.
Stops on Trans-Siberian train
In our carriage was a very useful time schedule of all stops, the time of arrival and of departure. It has the cities in Russian and English listed so if you bring a map or have a Russian mobile phone, you can easily figure out where you are! I did not want to add the complete train schedules in this Trans-Siberian Railway travel guide, due to the huge size of the photos. Would you like to get a better understanding of stops? Drop me a line, I am happy to share them with you!
What to see along the way? Trees  – literally hundreds of millions of birch trees – fields, cities, towns, colourful train stations, desolated industrial areas, arable. Nothing. A lot of nothing. Between Moscow and Irkutsk the train stops over 100 times, some stops are very boring, some are worth checking out. This is what I wrote down in my notebook:
Moscow – Irkutsk
Buoy – the union shaped cathedral next to the train station
Just after Kungur the landscape changes. The train rides next to a river where you can see some impressive houses that look like castles.
We really liked the views after leaving Ishim: beautiful lakes and blue skies if you are lucky!
The beautiful mostly turquoise stations are: Omsk, , Novosibirsk and Uiar.
In Barabinsk ladies sell pickled fish at the train station and fur heads – which of course is against my love for animals and therefore not something I support.
If you like the historic steam locomotives, keep your eyes open at Krasnoyarsk.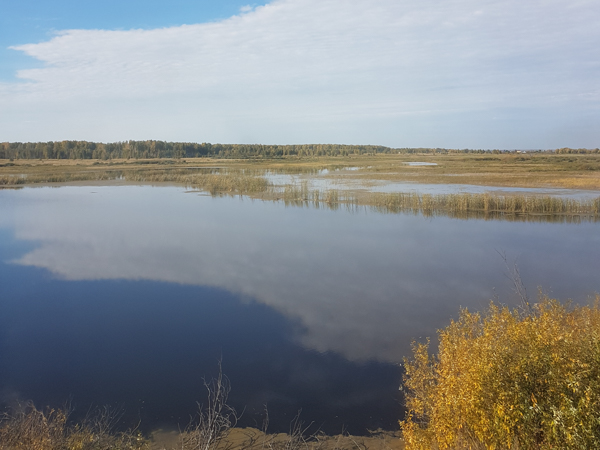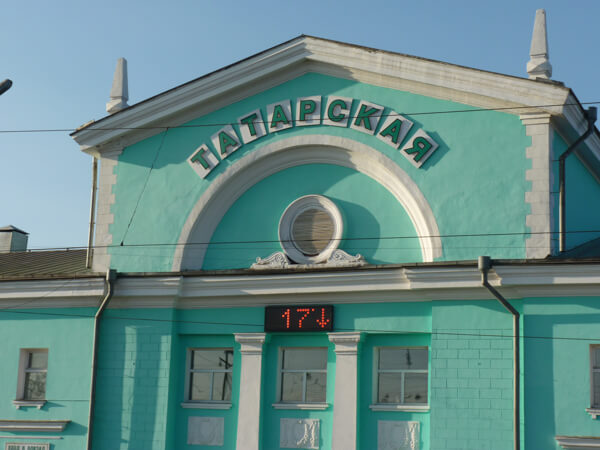 Irkutsk – Ulaanbaatar
Ulan Ude – our train had a quick stop to fill up the coal
Sunset and take time to discover the train. Our train from Irkutsk to Ulaanbaatar was almost empty and it was great to discover the different compartments and the restaurant.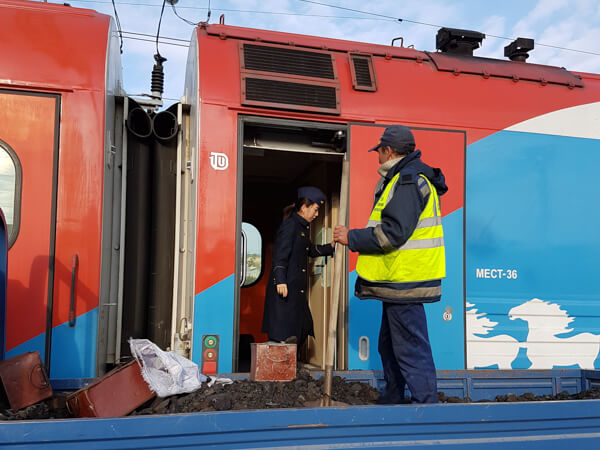 Ulaanbaatar – Beijing
After leaving Ulaanbaatar the tracks will make a few turns: the perfect moment to make that classic Trans-Siberian Railway shot
Choir: admire the locomotive in the front of the train
After leaving Sainshand the sun will start to go down and the yellow Mongolian landscape offers magical views!
Zhenzhuhu in China. Keep your eyes open about 1-2 hours before arriving in Beijing, it's beautiful!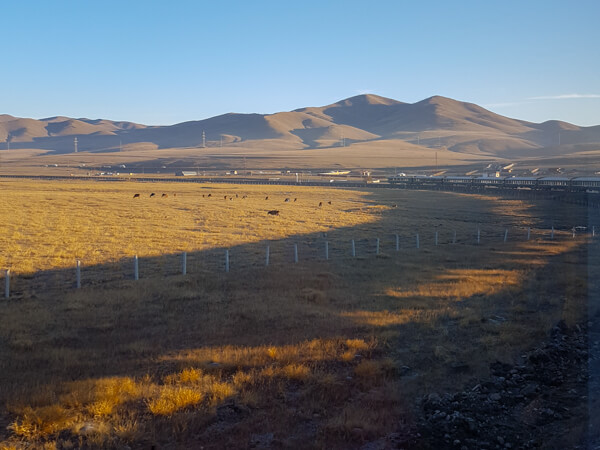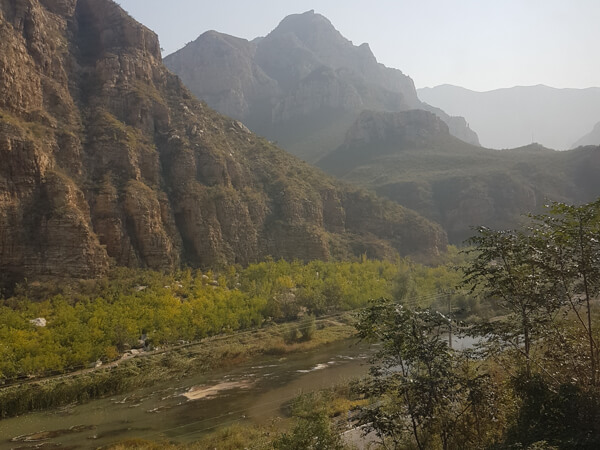 Looking for more information on the Trans-Siberian Express? Read my tips for planning your Trans-Siberian train journey and my travel tips for Russia. I hope you find this Trans-Siberian Railway travel guide useful. Feel free to drop me a line if you miss information in this post!