Berlin is a popular traveller's destination for a city trip and so is Munich, but what about Hamburg? Hamburg is Germany's second largest city and is relatively unknown. Most people we met during our Hamburg city trip were German and live in the harbour city. We believe Hamburg is a still a little unknown but more people find their way to this fascinating German city!
Hamburg has so much to offer, where to start? We spent a few days in the city and created the perfect itinerary for your Hamburg city trip, covering a few not to miss highlights, hidden gems and the discovery of the hippest districts. The city of Hamburg counts 6 main areas: Altstadt & Neustadt, St. Georg, St. Pauli, Schanzenviertel & Karolinenviertel, Altona & Ottensen and Hafencity & Speicherstadt. If you like to get to know the districts of Hamburg, their characteristics and main features, check out our article 'Hamburg Neighbourhoods'. Or continue reading all you need to know for your 2 day Hamburg city trip!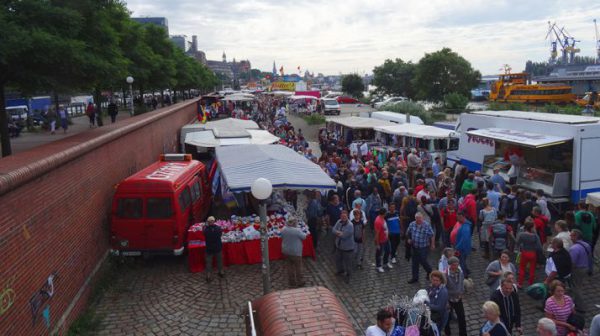 2 days in Hamburg – what to do?
Friday: Evening drinks at Reeperbahn
Saturday: Discovering Planten & Bomen – Schanze and Karoviertel
Sunday: Fish market – Hafencity – Alstadt highlights walk
Use this map to see our Hamburg city trip recommendation day-by-day:
Friday night – 23:00 – Drinks!
We arrived at Hamburg for our weekend city trip at about 23:00 and after quickly dumping our bags at the AirBnb apartment, we merged ourselves into Reeperbahn nightlife. After half an hour we concluded that this was not for us and so we decided to leave Reeperbahn. We found two nice bars that are great for beers and cocktails. No steaming men masses and no scantily clad women. Just two nice cafes to go with your boyfriend or girlfriend.
Schankwirtschaft
Bar and beer brewery Schankwirtschaft is a relief after seeing a lot of dodgy bars on Reeperbahn. Schankwirtschaft has a very large beer menu with something delicious for everyone! Great ambience, tasteful interior with wood and dark colours, friendly staff and the most important: good beers!
Address: Detlev Bremer Strasse 43, 20359 Hamburg
Café May
Perfect for cocktails to celebrate your Hamburg city trip! Hamburg has different Cafes May. Cafe May on Hein-Hoyer-Straße 14 has great old fashioned sofa's to sit on, cosy and romantic spots to have a great time with your lover and many cocktails for a good price!
Address: Hein-Hoyer-Straße 14, 20359 Hamburg
Day 1 – Saturday – Schanze and Karoviertel
Time to discover the city! Today is a perfect day to explore Schanzenviertel en Karolinenviertel!  We had a little bit of a delay because we decided to leave our 'noisy until 6 in the morning Airbnb apartment'. It just was a bit to much for a romantic Hamburg city trip weekend. This was the first time I used the 'Hotel Tonight' app. I had it on my phone for quite a while and checked it out often, but never really found a good deal! Until in Hamburg! We booked the Citadines Michel Hotel within 5 minutes (paid € 129 for two, excl. breakfast). We would really recommend the hotel: friendly staff, perfect location and spacious rooms!
09:30 – Coffee and sweets in Milch cafe
Start your day with an absolutely delicious coffee at Milch. I really liked Milch cafe with beautiful interior and very good coffee! For non-coffee lovers (yes, these people exist!) Café Milch makes great milkshakes. Both go perfectly with a pain au chocolat 🙂
Address: Ditmar-Koel-Straße 22, 20459 Hamburg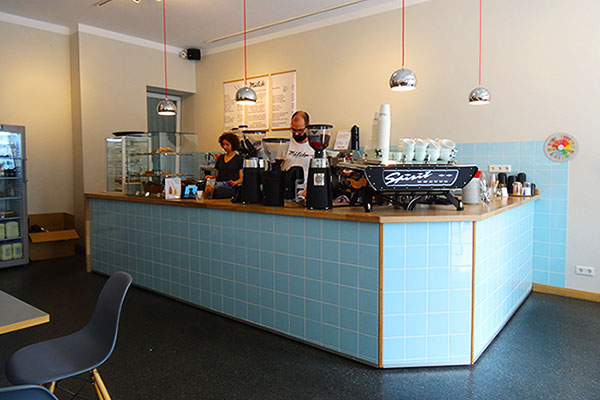 10:30 – Planten und Bomen
The most beautiful park in Hamburg! Lovely place for a romantic walk with its colourful flowers and botanical gardens. Planten und Bomen (plants and trees) is home to beautiful botanical gardens, the largest Japanese garden in Europe and a tea room.
11:30 Marktstrasse
Markstrasse (Market Street) has many great vintage shops, where I bought my "new" little black bag. If you are looking for old school Adidas sports jackets, Bjorn Borg style sneakers or overdressed jeans, go here! The walk down Markstrasse will bring you to Schanzen Flea market. This (again) vintage market has many stalls selling furniture, interior stuff and clothing.
Lunch
In Marktstrasse there are plenty of places for lunch! We went to Gefundes Vressen which is a nice bar to have a sandwich, salad or burger. Try the homemade lemonade!
Afternoon Shopping in Schanze and Karoviertel
Schanzeviertel and Karoviertel are perfect for shopping! The streets Schanzenstrasse and Schulterblatt are home to many shops where you can buy clothing and shoes from less known brands and interior accessories.
Address: Marktstrasse 130, 20357 Hamburg
Beer and burgers in the evening
Just south of S-Bahn stop Hamburg-Sternschanze there are a few bars and restaurants with great terraces to enjoy the afternoon sun if there is any 🙂 Our favourite bar was the brewery Altes Mädchen where we tried different beers and had burgers for dinner! Personally, this is what my favourite evening would look like!
Address: Lagerstrasse 30A, 20357 Hamburg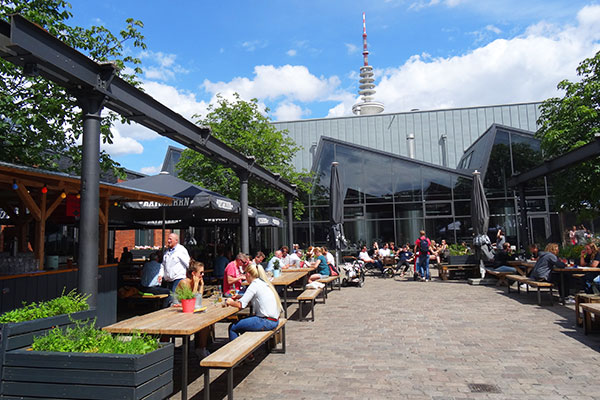 Day 2 Fishmarket and Hafencity
08:30 Fish market and Breakfast
Altona Fish Market
The perfect Hamburg city trip Sunday starts early! The Altona Fish Market is a real must visit. The Fishmarket starts at 5 in the morning and continues until about 10:00. For us, this time-schedule was the reason to visit the Reeperbahn area on Friday night and stick to 'beer and burgers' on Saturday. But even after a proper night of sleep, the Altona Fish Market is overwhelming! Locals, travellers, fisherman and party people all come together at the Promenade to have their own experience where beer drinking plays a major role.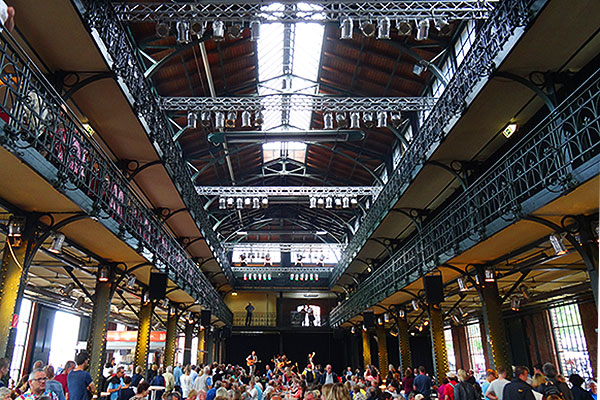 For breakfast we share two options:
Quick option: Have a coffee and croissant (or anything you like!) at the Fishmarket. There are many food stalls to choose from.
Sunday breakfast way: Go to Klipp Kroog after your Fish Market visit for the perfect breakfast! This is what we did because after getting up early we really felt like having a fresh and delicious breakfast! Klipp Kroog is just 7 or a 20-minute walk minutes by bike from the Fish Market.

Address: Grosse Bergstraße 255, 22767 Hamburg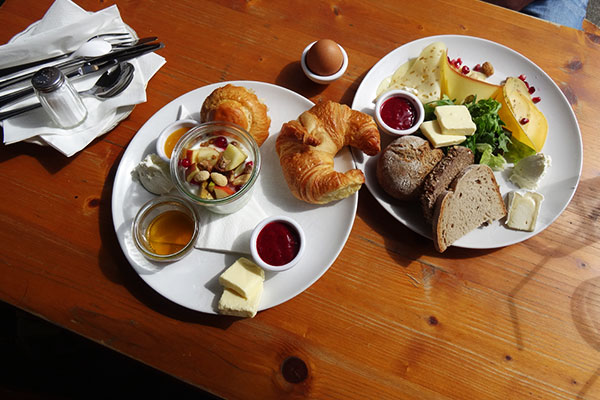 12:00 Hafencity and Speicherstadt
Next on your city trip agenda is Hafencity! We choose Hafencity over Altona for our Sunday morning and early afternoon activity because we wanted to see Speicherstadt. In Hafencity we cycled towards Am Strandkai, parked the bikes at the drop off spots and started our walk along the water. I found this a really nice area with luxurious buildings on one hand and the rough harbour views on the other hand.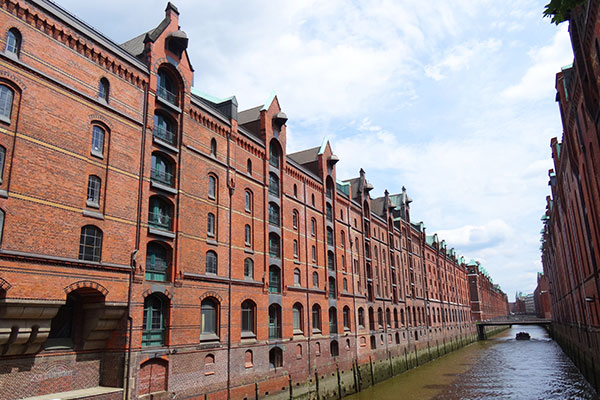 Lunch or ice cream
On the boulevard, there are quite a few options for lunch. There is not a particular place we could recommend because we did not feel like lunch after the enormous Klipp Kroog breakfast. We went for ice cream at Miss Sofie instead. If you are lucky, maybe one of these comfortable beach chairs will be yours!
Address Miss Sofie: Am Kaiserkai 59a, 20457 Hamburg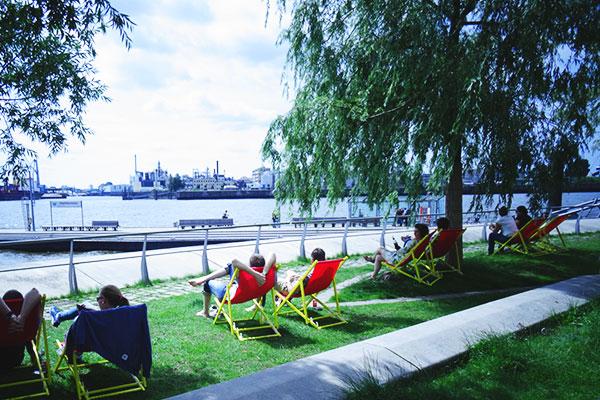 Architectural highlights
Hafencity is a great area for architecture. These are our favourites not miss highlights during your Hamburg city trip:
The concert hall called Elbphilharmonie building is impressive! We were told that building the property is in progress for years and costs exceeded budget big time. When the Elbphilharmonie building is finalised, it will be the largest uninhabited building of Hamburg! An impressive building, unique in its kind and a together with Heinrich-Hertz-Turm (TV Tower) two main Hamburg eyecatchers.
Speicherstadt and Kontorhaus are on UNESCO's World Heritage list since 2015:
"Speicherstadt and Kontorhaus District with Chilehaus contains outstanding examples of the types of buildings and ensembles that epitomise the consequences of the rapid growth in international trade in the late 19th and early 20th centuries. Their high-quality designs and functional construction, in the guise of historicism and Modernism, respectively, make this an exceptional ensemble of maritime warehouses and Modernist office buildings."

(Source: http://whc.unesco.org/en/list/1467) 

Do we have to say more? Don't think so!
Deichstrasse. After crossing Elbe River, walk into Deichstrasse to admire old – Amsterdam look-a-like warehouses. These houses were built in the 17th century and now contain shops, restaurants and cafes. We thought the restaurants looked a bit old fashioned, but there is a hidden surprise at the end of Deichstrasse for the most perfect coffee at Nord Coast Coffee Roastery. Address: Deichstraße 9, 20459 Hamburg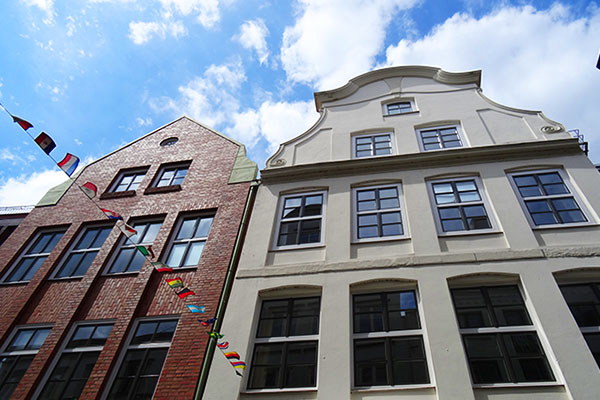 14:30 Time to go home!
Our train was leaving late afternoon, so we took another 1,5 hours to walk from the Citadines hotel through Hamburg city centre. This gives you some time to see the Town Hall called Rathaus, have a coffee at Cafe Paris and enjoy some historical buildings. Please note that stores are closed on Sunday, so change your schedule a little bit on Saturday to ensure shopping time if you prefer!
Mutterland
Mutterland has a few stores in Hamburg. We would definitely recommend checking out at least one to buy some lovely organic German food as a souvenir. Mutterland sells coffee, jam, chocolates, wine and beers and is also a good place for lunch. We visited Mutterland at Ernst-Merck Strasse, just behind Hamburg Central Station where we had a delicious cappuccino and bought some great salads for our train ride back home.
Address: Ernst-Merck-Strasse 9, 20099 Hamburg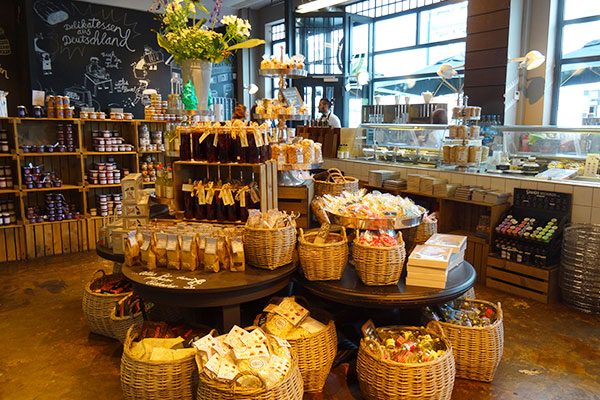 Hamburg City Trip Recommendations
Rent a bike! We downloaded the DB app in Berlin earlier this year and at the time we choose the annual fee. You can use that same app in Hamburg too. Hamburg's bike system is called StadtRAD has 700 bikes across 70+ locations in Hamburg. The StadtRAD works perfectly. From our Citadines hotel, all main highlights are within a 15 minutes bike ride. The perfect city trip transport!
If revel by night is your thing, book an apartment or hotel close to Reeperbahn. The apartment where we stayed the first night was not on but in a street just off the Reeperbahn and we did not get a good night of sleep. Not a problem for everyone but good to keep in mind when you are looking for your Hamburg city trip accommodation.
This is mainly for European travellers or international travellers who are on a European trip: consider taking the train! We paid only € 77 for a return ticket Amsterdam – Hamburg, this trip will take you 5 hours.
Next time we visit
Strand Pauli and Elbestrand
Cycling along the lakes Binnen- and Aussenalster. Nature is close and just a short bike ride away from central Hamburg. We would love to discover the beautiful lakes and enjoy a picknick!
Schulterblatt
Blankenese
Europa Passage
Altona and Ottensen
Feel free to share your thoughts on this article, the Quokka website, your city trip to Hamburg or anything else by using our comment box!