When on a city trip, you like to make to most of it! At least, we do! But you want to avoid running around like crazy, so you will have to do some research and pick your battles. One of the neighborhoods not to miss when visiting Amsterdam, is definitely De Pijp. Compared to other European capitals, Amsterdam is more like a village instead of a city. That means De Pijp and also Amsterdam's other neighborhoods are perfect to discover by walking and cycling. Check out our city guide!
Shopping in De Pijp
Shop till you drop! Forget about the madness of the big commercial brands, this is where you find your unique items:
Gerard Doustraat
The Gerard Doustraat is a non-stop concept store street. Start at De Wasserette and walk toward the Ferdinand Bolstraat – or of course the reverse direction! There are about 10 great shops with their own style selling products from young designers, beautiful jewelry, clothing and footwear. Sneakerstore, pop-up-store, kids shop, jeans house, it's all there so go for it! On the corner, turn left and don't skip Circle of Trust. Address: Ferdinand Bolstraat 47,1072 LB Amsterdam
Kolifleur
Hidden in the lovely Frans Halsstraat, there is a fabulous shop that sells second-hand designer clothing, vintage furniture & interior products and Dutch design bags, jewelry and cards. Don't skip this one, we are sure you will love it!
Address: Frans Halsstraat 35, 1072 BK, Amsterdam
We are Labels
Women's and men's clothing and accessories, great brands like Minimum, Amano, Modström and Selected Homme and unique gifts! Located almost on the Albert Cuyp market and so worth a visit.
Address: Eerste van der Helststraat 58, 1072 NX Amsterdam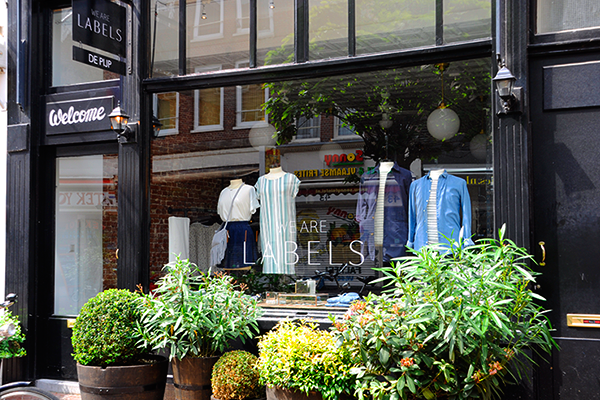 Breakfast, brunch and lunch
Little Collins – our number 1 favorite spot! These Ozzies do a fabulous job at Little Collins, serving the most gorgeous brunch dishes of De Pijp. Your city trip is not complete if you miss out on this one! Defo try the Grilled Haloumi is you are a vegetarion, go for the ¡A huevo! if you are a meat lover.

Address: 

1e Sweelinckstraat 19-F, 1073 CL Amsterdam

Bakers and Roasters – this place is also amazing, and almost tied for first spot on the list! Bakers has saved us from tons of hangovers already :)! Lots of bacon, huevos rancheros, great cakes and good coffee!

Address:

Eerste Jacob van Campenstraat 54, 1072 BH Amsterdam

Address:

Kadijksplein 16, 1018 AC Amsterdam, the Netherlands (Central Amsterdam)

CT coffee & coconuts – beautifully situated in an old cinema building, CT coffee & coconuts serves you great coffee and healthy dishes (lunch and dinner) with a twist!

Address:

Ceintuurbaan 282-284, 1072 LR Amsterdam

De Wasserette  – order at the counter, sit down and relax. These guys know how to keep their customers happy with good service and good food. Go here if you are after a gorgeous hollandaise sauce with spinach or salmon.

Address:

Eerste van der Helststraat 27, 1073 AC Amsterdam

Scandinavian Embassy – Extremely good coffee, healthy salmon breakfast and fika in a Scandinavian setting.

Address:

Sarphatipark 34, 1072 PB Amsterdam
Salad bars
Venkel – Pick your own ingredients for your personal salad needs or select one the Venkel girls created for you already.

Address:

Albert Cuypstraat 22, 1072 CT Amsterdam

SLA – SLA's salads are mainly gluten-free, and they do not use milk or refined sugars. Perfect for those with food intolerance challenges. Try the Spinach Faladel salad, it's delicious!

 

Address:

Ceintuurbaan 149, 1072 GB Amsterdam
Restaurants for diner
Beer, chicken
,

 burgers & pasta

De Pijp offers many low profile comfort food places where you have a great evening with your friends, family or lover. For these three restaurants a main course is about € 10 – € 15 euro's. You will pay about € 3,- for a beer.
Van 't Spit – this rotisserie makes chicken to perfection! Try one of the gin cocktails with ginger beer.

Address: Frans Halsstraat 42, 1072 BT Amsterdam

Brouwerij Troost – our favorite! Great home brewed beers, good burgers and friendly staff.

Address:

Cornelis Troostplein 21, 1072 JJ Amsterdam

The Fat Dog – hotdogs all over the place! The old school no nonsense version AND many unique must try options: Chinatown hotdog with pulled pork, Gangs of New York with sauerkraut or Gado Gado with chicken sausage, to name a few.

Address: Ruysdaelkade 251, 1072 AX Amsterdam

Spaghetteria Zuid – just walk in, take a seat at the large family table and enjoy a delicious fresh pasta!

Address: Van Woustraat 123 HS, 1074 AH Amsterdam
Asian Style
Pho 91 – be on time because there will be a queue at Pho! This popular Vietnamese eatery serves fresh noodle soups, noodle salads and delicious small plates.

Address:

Albert Cuypstraat 91HS, 1072 CP Amsterdam

De Japanner – a relatively new restaurant on the Albert Cuypstraat where Japanse 'chop stick food' is severd. Beef Tataki, sui gyoza, squid marinated french fries with mayo. Try as much as you can & have a Japanese beer on the side 🙂

Address:

Albert Cuypstraat 228, 1073 Amsterdam
Diner – the next level
Feel like having a proper diner with matching wines, a few courses in a great ambiance? We love these places ourselves:
Firma Pekelharing – no nonsense restaurant with Mediterranean dishes.

Address:

Van Woustraat 127-129, 1074 AH Amsterdam

Par Hasard – the owner of Par Hasard did a very good job in bringing food from the south of Holland, Limburg, to Amsterdam. Basically this place houses two restaurants – or better: one restaurant and one 'snack bar' for a great quick bite. So go to restaurant Par Hasard for great food and great service or go to Frites uit Zuyd for a old fashioned Dutch fried snack and fried fries.

Address:

Ceintuurbaan 113-115, 1072 EZ Amsterdam

Reuring – it's been a while since we been here, but we had a lovely romantic evening at Reuring. We took a gorgeous 6 course diner acompanied with good wines. In case you wonder: the bar opposite Reuring (Paskamer) is great for a cocktail or special beer but the food is way to expensive for what you get.

Address:

Lutmastraat 99, 1073 GR Amsterdam
Michelin Star Restaurants
Yes! De Pijp houses two Michelin star restaurants. Needless to say…. reserve your table in advance!
Okura – by far one of our best dining experiences ever! On the top of the luxurious five star Hotel, Okura ondoubtely suprises their guests with a extremely tasteful and creative dishes with a stunning view over De Pijp.

Address:

Ferdinand Bolstraat 333, 1072 LH Amsterdam

Sinne – this is the only restaurant in this article where we haven't been yet, but we believe we definitely should not lack on this list because it is one of the best restaurants in Amsterdam!

Address:

Ceintuurbaan 342, 1072 GP Amsterdam
Winebars
Boelen & Boelen – This centrally located winebar is perfect for a glass of white Riesling from Germany or a bottle or red Barolo from Italy. Boelen & Boelen also serves good food. One small warning: the owner is a little too excited about his wines so he goes a bit crazy sometimes. Let your thirstiness decide 🙂

Address:

Eerste van der Helststraat 50, 1072 NV Amsterdam
Best Bars in De Pijp
De Duvel – The perfect cafe to start the week-end or have an afternoon beer. Unlike many other bars in De Pijp, De Duvel has great staff! Hungry? Try the chicken satay with rice!

Address: Eerste van der Helststraat 59-61, 1073 AD Amsterdam

Venster – A nice place for a beer, coffee, lunch, diner and gin tonics – a very versatile place with great interior.

Address: Eerste van der Helststraat 42, 1072 NV Amsterdam

Flamingo – Especially on Fridays this place is where the local people meet up for a beer without being to pretentious. Just a great bar where you can try different beers. Cafe Flamingo has a large offering of local, national and international beers: try as many as you want!

Address:

 

1e Van der Helststraat 37, 1073 AC Amsterdam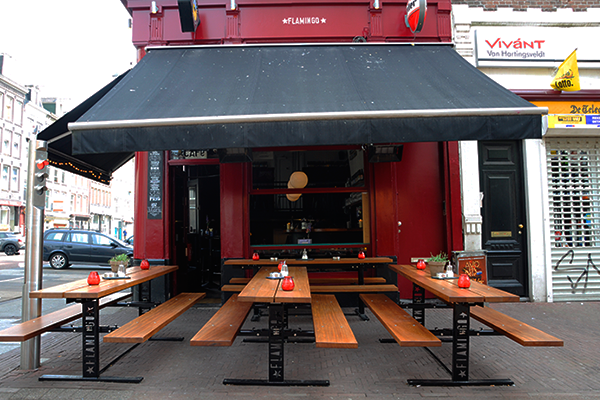 Rijksmuseum
Obviously on every travelers list and we do understand that! We would like to share some tips with you to make sure you will get the most out of your Rijksmuseum visit:
Do some research and pick a few era's you really like, go there and skip the rest. The museum is huge and has a lot to offer. So unless you are an incredible museum addict who really likes to be drawn into art: select your favorites and give it your love and attention. Then leave the museum and start exploring De Pijp.
Buy your ticket online! Yes, it seems like an obvious one but queues are long and a waste of time!
Go early and start at the top floor! This is where the showpieces of the Rijksmuseum collection are. Then explore the museum against the stream. Show up late and there will be 700.000 people in front of the Nachtwacht.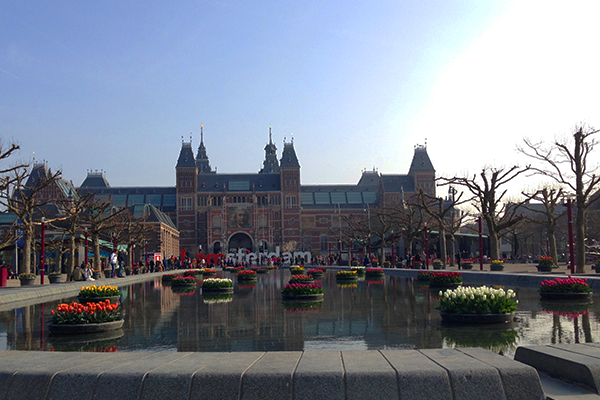 Location of De Pijp
De Pijp (Pipe) is situated in the northern part of the Southern district, adjacent to the center of Amsterdam. The quay called "Stadhouderskade" forms the northern boundary of the neighborhood. In the west, De Pijp is enclosed by the Boerenwetering, in the south by the Jozef Israelskade and in the east by the Amstel river. It's very close to Museum square, so instead of ending up in a tourist trap, turn eastwards and enjoy Amsterdam's most popular neighborhood.
Just outside of the craziness of Central Amsterdam, De Pijp offers you a lively mix of nice cafes, restaurants and shops. The neighborhood houses the original old and grumpy `Amsterdammers`, young couples seeking their fortune, hipster girls with white sneakers looking for a flat white and young men with beards repairing 80's sports bikes without brakes. Yes it's mostly just hurdling over buggies and dogs, but the area has much to offer! And we know all of this for sure, because we have been living in De Pijp for over 5 years now 🙂
Albert Cuyp Market
In the 19th century, when population of Amsterdam largely increased, many Jewish families moved into De Pijp as well.  The synagogue on Gerard Doustraat is a clear track. Asscher Diamond Cutting in De Pijp was built, the area close to Asscher Diamond Cutting is therefore called the Diamond District.  The Albert Cuypmarkt had a large number of Jewish market vendors. Unfortunately the market lost its Jewish character after de war. The Albert Cuyp is worth a visit though. As a central artery through the northern part of the district, the Albert Cuyp market is perfect for your grocery shopping with it's many fruit and veggie stalls, fresh fish, cheese, nuts, chocolates, cheese and of course flowers.
Looking for good quality meat? Go to the best butcher of De Pijp: Alain Bernard at Albert Cuypstraat 133. This is where you buy pates, sausages, rillettes de canard and basically everything you need in terms of meat. The French butcher doesn't give you the cheapest price, but a fair one for delicious food – that's the way it should be!
Don't feel like shopping? Just walk around and we are sure you will see something that makes you laugh 🙂
We recommend visiting Albert Cuyp in the morning during the week-end because in the afternoons everybody survived their Friday hangover and is looking for food. Way to busy in the afternoon!
History
A little history to get more of an understanding about the area. In de 18th century the current neighbourhood De Pijp was an uncrowded polder with hostels, mills and small houses. Due to Industrial Revolution in the 19th century, the population in Amsterdam grew immensely and urban expansion was required. A new neighbourhood officially named YY was born, more commonly called De Pijp, probably due to the long, narrow ditches in the former polder. The neighbourhood became anything but an upscale neighbourhood. De Pijp was a neighbourhood for the working class and poor people of Amsterdam. As of 1918 prostitution arose, mainly around the Sarphatipark. In so-called rendezvous houses prostitutes with a client were able to rent for a short time. Ruysdaelkade is a remnant of the troubled history of De Pijp, and there are still a few red windows in the area.
In the 60s of the 20th century the first foreigners started to live in the neighbourhood. Initially these were Spanish immigrant workers who worked at the Heineken brewery at Stadhouderskade. After a while they brought their families and so the number of Spanish inhabitants of De Pijp increased. Over de past decades De Pijp turned into a district popular by yuppies. Which can be seen as a positive or negative consequence. One thing is for sure: there are lots of good restaurants and bars, you can go as crazy as you like in De Pijp – Enjoy!