We had some tasty food in Moscow! A 3-day visit to  the city was the first highlight of my Trans-Siberian train adventure. And Moscow certainly surprised me. I already wrote about Moscow's most beautiful metro stations and how they look like ballrooms rather than underground stops. Another thing I liked about the Russian capital was the food! I found some great restaurants in Moscow. And honestly, I did not expect the food to be that good and the options to be that numerous. 
I did not really have a list of favourite restaurants or the best places to eat in Moscow. I felt I just wanted to discover Moscow's best food and drinks at the moment itself. And so we did! I found some tasty dishes and great restaurants! Even for vegetarians there is enough to choose from, it's easy to find a meat- or fishless option on the menu. It does help sometimes if you do eat fish though. So I am going to share the restaurants where I had great food and drinks.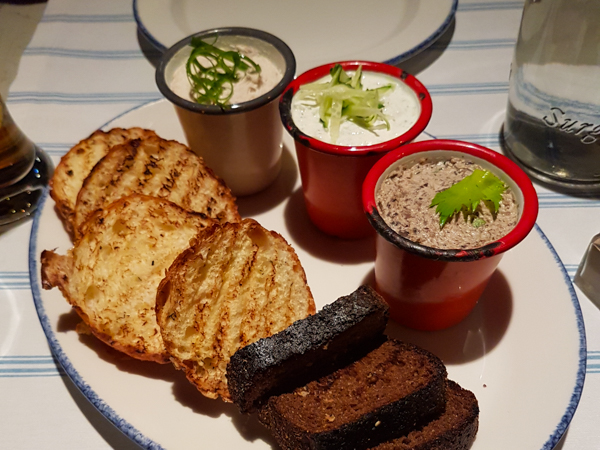 Odessa Mama
During our taxi drive from Moscow airport to the Brick Design Hotel, we passed by a cosy looking restaurant. Just a few minutes before we arrived at our hotel in the early evening. Perfect, this is where we were going to have dinner. I did not check reviews beforehand and did not book a table. We just went there. I felt verbally handicapped when the Odessa Mama hostess started a conversation in Russian. I wished I had done some homework on my language skills. Luckily my dad – who I was travelling with – knew just about enough words to keep the conversation going. It was a busy Saturday night, so we waited at the bar for about 20 minutes to get a table.
We had delicious bread with spreads, salads, fish and grilled mushrooms. All delicious food. The ambience is great at Odessa Mama. Despite the large size, it's a very cosy place because it has different rooms and split level floors. Wanna enjoy Odessa-style food yourselves? Go check out Odessa Mama!
Adress: Krivokolennyy per., 10с5, Moskva, Russia, 101000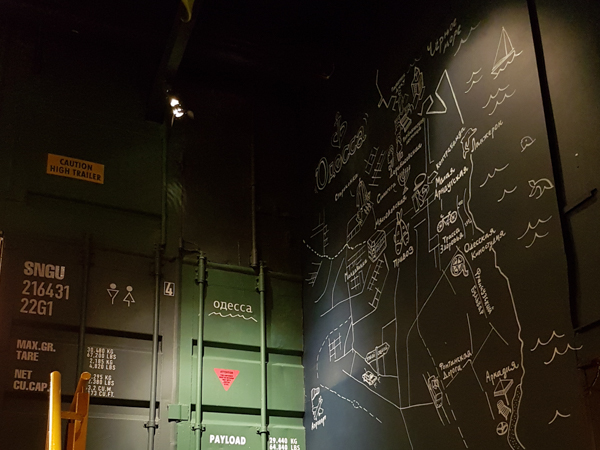 MØS
On our way to the world famous Novodevichy Cemetry in the south-west of Moscow, we needed food! We ended up in an area that appeared to be Moscow's business district. We found a restaurant called MØS. It looked pretty posh with large glass windows, industrial design and businessmen in suits. Our traveller outfit couldn't stop us from getting in. And after a long morning of walking in the city, I was so happy with the beautiful looking dishes, the comfortable chair and a cold beer! For vegetarians, I suggest trying the sweet potato and parsnip salad with cheese.
Adress: Trubetskaya ul., 10, Moskva, Московская область, Russia, 119048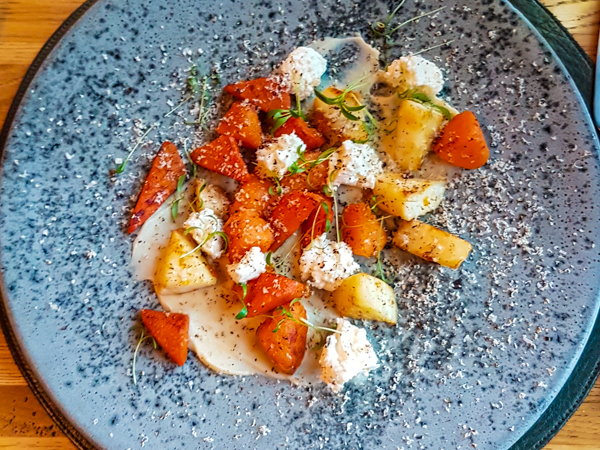 Beer and Brut
We came back from a 2-day visit to Suzdal and arrived in the late afternoon at Kurskiy station in Moscow. It was raining cats and dogs and all we wanted was a beer and proper food! Just in a 10-minute walk from Kurskiy train station and perfectly situated on our way to the Brick Design Hotel, we came across Beer and Brut. Another restaurant in Moscow that surprised us with good food and a great atmosphere. Beer and Brut serve many different types of beer and wine. They even had Limburgs blond which I could not resist! We chose different small plates to share and I especially liked the zucchini waffle with cheese.
Adress: ul. Pokrovka, 26/1, Moskva, Russia, 109028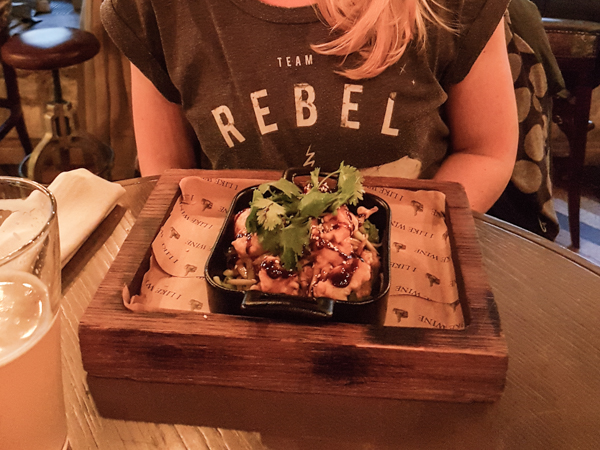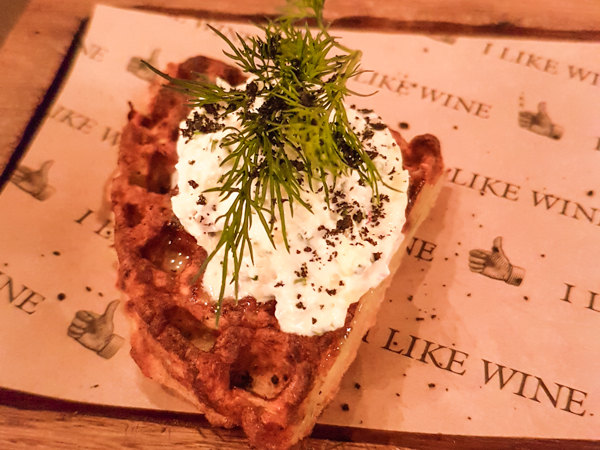 Moloko
In one of Moscow's posh shopping streets, Moloko is great for some afternoon chocolate and coffee love. This is a beautifully decorated former Soviet diary store. It explains the name of the restaurant: moloko means milk. Moloko has a large wooden bar, the interior style is pretty elegant with white table linen and pompous chairs . I have heard it's also great for cocktails and food but I can't judge myself! We tried the coffee, chocolate milk, carrot cake and chocolates. Especially the cute chocolates are highly recommended!
Address: Bldg. 5 ul. Dmitrovka B. 7/5, Moskou 125009, Russia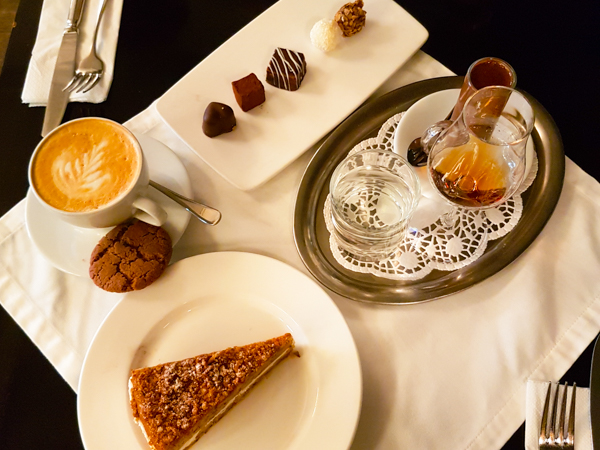 Uiliams
Located in the – as we were told by locals – 'Paris of Moscow' neighbourhood, we walked by Uiliams. From the outside restaurant, Uiliams looks not that fancy but apparently it's where the Moscow jet-set meet. And where my dad and I had lunch on our 3rd day in the city. My avocado crayfish sandwich with balsamic dressing was delicious! My dad was very happy with his chicken salad. Good quality coffee, fresh juices and adequate staff. The interior itself was a little old school but I liked it that way. The open kitchen in the centre of Uiliams restaurant is great to spot the food you want.
Address: Malaya Bronnaya St., 20A, Moscow 123104, Russia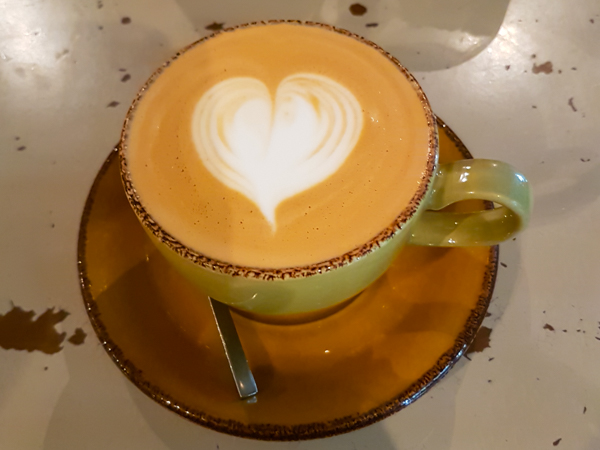 Высота 5642
This is how I expected Moscow to be: beautifully dressed women with just a little bit too much make-up, men in suits, jewellery, lots of food and to much swagger.  After a day if city trip strolling we found this Georgian restaurant Высота 5642. Again we were undressed wearing but I didn't care. The food was great! We tried many dishes that we never heard of before. The waiter was very helpful and explained about the Georgian kitchen, the dishes and ingredients. What I really liked in Высота 5642 is the open kitchen where you could see hardworking chefs making beautiful fresh dishes. Don't skip this place for food and don't feel uncomfortable in your traveller's outfit!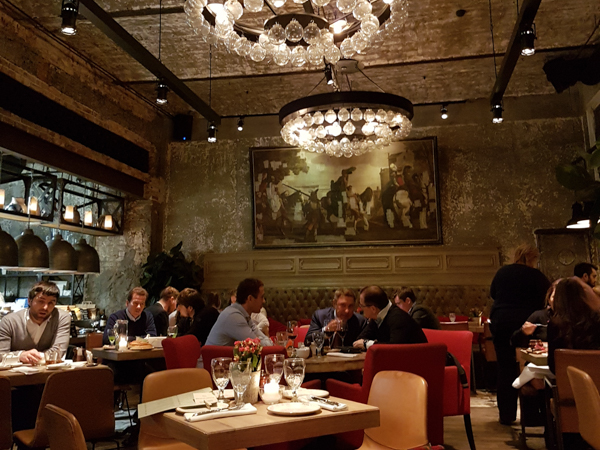 Prices
I expected the food prices to be extremely high. Of course 'extremely high' is a flexible statement and has a different value for all of us. Generally speaking, we paid € 30 – 50 each for dinner and € 15- 25. This depends on the drinks you have and the type of restaurant you go to.
I would love to hear what your favourite restaurants in Moscow are. And what did you think of the prices of food and drinks in Moscow? Let me know by leaving a comment!
Read more about Moscow, Russia or my Trans-Siberian Express adventures.