When we travelled in Laos, we noticed that cities like Luang Prabang are perfect for cycling. The city is flat, has wide roads and little alleys to discover. The region also has a lovely countryside to explore. We thought it was fantastic to cycle along the Mekong river. Luang Prabang's old town has small alleys, markets with great local products and very friendly people. The perfect spot for leisure cyclists 🙂

Why cycling in Luang Prabang
We are Dutch and we love cycling. Yes, stereotypes exist for a reason! When we go on a trip, we always check if the city offers  a bike rental system. Call a Bike in
Berlin
, Santander Cycles in London and Vélib' in Paris: we love it! In Luang Prabang there is no global rental system, but no worries! There are plenty of bike rental options for you.
We are not into cycling huge distances or rough mountain biking. No, we prefer it the easy way: discovering hidden streets, dusty lanes and rolling along rivers with a fresh breeze in our hair. Bike riding gives us freedom and positive energy. It is a very comfortable and eco-friendly way to get around and you will burn some calories which we consider a good thing after the Lao beers. Last but not least, biking gives your sore feet a nice break from endless flip-flops or sneaker walks!
An interesting fact is that cycling or biking in Luang Prabang – and also other towns – is often referred to as mountain biking. Which is not really an option with most of the Laos rental bikes because the bikes look more like Parisian city bikes rather than a bike for rough natural landscapes.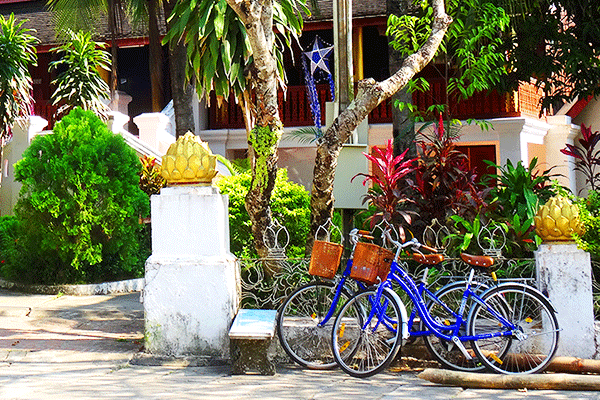 Where to cycle in Luang Prabang
We don't want to give you a Luang Prabang map of where to cycle because we believe you should just 'go for it'. There is no wrong way! If you feel a little lost just turn around. If you see a great place to stop then just stop. Just let it happen and enjoy the ride!  Cycling agility helps you to move around in the tiny streets. Although we have seen some less skillful travelers we believe there is no point of wearing helmets or any other embarrassing accessories. Just cycle slowly, relax and unwind.If you would like to go on a 20+ kilometre bike ride, we recommend cycling to Kuang Si Waterfalls.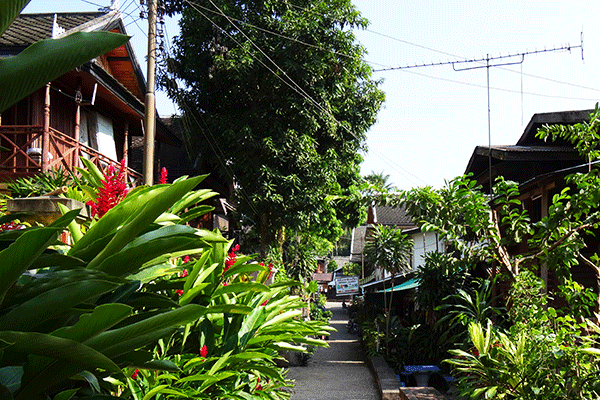 These are our biking recommendations:
Luang Prabang has a few temple complexes that are perfect to visit during your bike ride. Respect the local culture: don't forget your sarong and cover your shoulders. We especially liked Wat Xieng Thong, the most historic and enchanting Buddhist monastery in Laos. Wat Xieng Thong means 'Golden Monastery' and is a beautiful place to have a break. Pay some extra attention to the roof of the temple, the mosaic and the red chapel.
Cycle along the Mekong and Nam Khan rivers. There are a few bridges (two of them are only open in dry season only) that cross Nam Khan river, which is great to visit the temples Wat Pa Kha, Wat Phon Sang and Wat Taohai.
The old town houses several markets worth a visit. We just bumped into a local market where lots of rice, fruits and veggies were sold. A few markets that a worth a visit are the morning market (just next to the Former Royal Palace), Hmong Market and Dara Market.
If you feel comfortable planning your bike ride beforehand, take a look at Hobomaps. The Luang Prabang Area map gives you an understanding of the region, the roads and distances.
Somehow the sunburning hits in easier while cycling, so try not to forget your 30+ SPF suncream and bring a cap.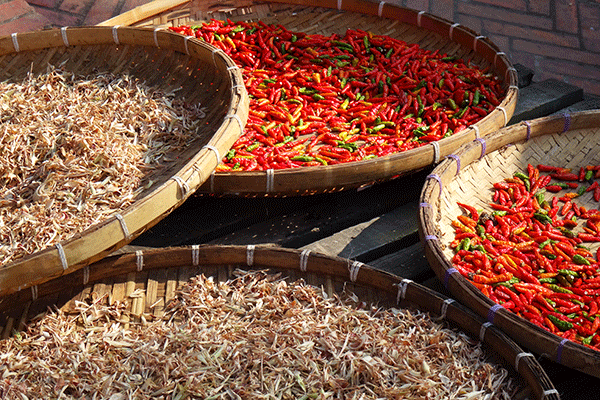 Rent a bike
1. Rent your own bike
. This is what we did. We feel very comfortable on a bike, love to be flexible in where we (don't) stop and just prefer to go our own way. Many tourist information centres, hostels, hotels and guesthouses rent bikes to travellers. We stayed in a lovely guesthouse,
Singharat Guest House
 where we rented our blue city bikes. Parts of the city feel a little over touristy really. That's why we chose this lovely guesthouse, perfectly located but just outside of the madness. Average costs are $ 2-5 per day.
2. Go on a cycling tour. If you feel more comfortable in a group and like to be 'taken on tour', then these organisations are your organisations. Check some reviews before you book and please do the elephants a favour: if you use Tripadvisor, don't think that you have to be on one of those Elephant Tours. Cycling is much more fun AND animal-friendly.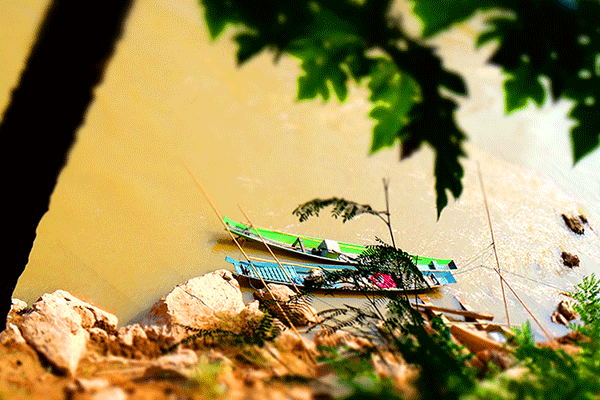 Laos and Luang Prabang
After years of war and political instability, Laos has quickly become a very popular travel destination. Which we absolutely understand! During our South East Asia trip, Luang Prabang in Laos has been one of our favorite places. Laos and especially Luang Prabang has a very laid back ambiance, stunning countryside, and friendly inhabitants. As a former French colony, it is inevitable not to spot French characteristics like the baguettes.
In 1995 Luang Prabang was designated to UNESCO's World Heritage list: "Luang Prabang is an outstanding example of the fusion of traditional architecture and Lao urban structures with those built by the European colonial authorities in the 19th and 20th centuries. Its unique, remarkably well-preserved townscape illustrates a key stage in the blending of these two distinct cultural traditions".
Feel free to share your thoughts on this article, the Quokka website, Luang Prabang in Laos or anything else by using our comment box!